Mentoring- Professional Development for Artists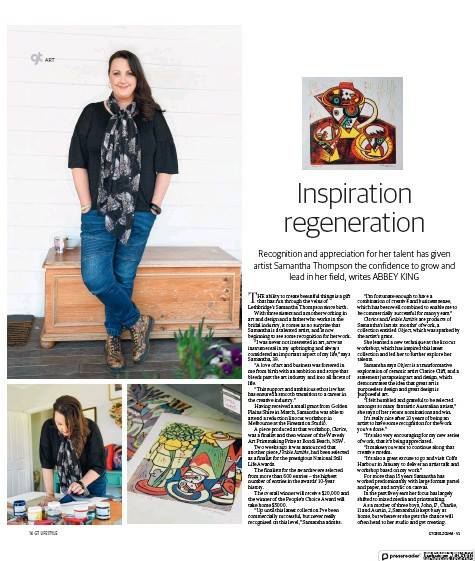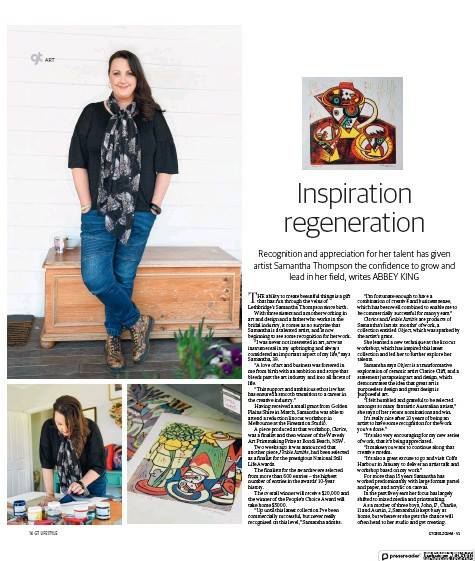 Mentoring- Professional Development for Artists
Samantha Thompson - Business Development
(please note I'm happy to work with interstate and International Artists via online or Phone)
Many people that enjoy making art or are interested in design have fantastic talent, but really don't understand the steps they need to take to run a successful studio. Perhaps you have always created, but life/family commitments have meant that your passion has taken a back step. Maybe you feel you are at the stage in your life, that you would like to really take your art to the next level. I see it every day, and for years have been answering questions from artists.
Many artist and designers spend years at Uni or Tafe, (myself included) and leave still not understanding the practical side of a business, or how to successfully turn your hobby into a full time business.
I have been opening my studio for one on one for many years to artists that would like to gain more understanding of the art industry. My experience in the fashion and art business/non for profit and government over the last 20 years is at your disposal.. So come prepared with lots of questions, and a note book to write down the information I give you that will be tailored to your needs.
A bit about me:
Over 20 years of running and operating my own self promoted arts studio, and at the same time working within my family high end design business, I have a wealth of practical advice to share. I had the great advantage of growing up in my father retail rag trade, and I worked there for many years before I started to work for Stephanie Browne Australia, an International retail and wholesale design business. At 16, I was assisting Sydney wholesale shows, at 19 I was representing the brand in NZ and setting up wholesale expos and selling on behalf of the brand in NYC. I have been exposed to years of design and the art business, in retail and on a wholesale level. This experience has help to mould my current art practice and until recently I was still a part of the design team, working in International brand promotions and dealing with retail and wholesale clients. I have run cafes, operated my own art gallery in St Kilda, studied Studio Textiles design at RMIT, and for the last several years, worked for Local Council in the Arts and Culture sector. I also manage a non for profit arts group with a HQ in Meredith called The BOP Arts Co Op.
I feel this experience's has put me in a fantastic position to help foster new talent. I understand the challenges of investing time and money into your work while still needing to pay your bills. I have 3 boys that I balance my work around. I love what I do and I'm passionate about getting more original work into people homes and providing=ng more opportunities for regional artists. I think artists are not in competition with each other, we are a group and when one is successful, we all benefit.
What's on offer?
1. Definitions of an artist or designer, what qualification will you need
2. Self-worth as an artist/designer, don't work for free!
3. What do you want from your art? A successful International design company? A small busy home studio? To be represented by top Art Galleries?
4. How to photograph, reproduce and have a strong brand from the beginning.
5. A look at your current work, does it have consistency? What makes you different? Who is your audience?
6. Material and medium, what NOT to use!
7. Price structure, how to price your work so that it sells.
8. How and where to show/sell your work for your current experience.
9. How to use social media, the internet, print and press to promote your business on a tight budget.
10. How to write a press release, what to include.
11. How to approach stores and galleries with success.
12. How to invoice, get great working habits in the studio including tax, invoicing, understanding artist rights.
13. Practical advice for Australia artist and designer ongoing support available online.
14. Understanding who and why people buy your work.
15. Website and online shop information.
16. How to be professional online.
17. Networking, how to gain from it.
18. Trademark and copyright information
19. Grant writing, looking for funding and opportunities
20. The positive aspect of working with local artist groups and councils/funding bodies
Testimonials

"I've worked with Samantha over many years, to help develop my arts practice. Her honest and down to earth approach to the art industry is refreshing and has helped my art business in sales and also understanding who I am, and what I offer. Cant recommend her enough."
— Helen Esher
"Through her role as Arts and Culture Officer at Golden Plains Shire Council Samantha demonstrated a genuine passion for providing opportunities for local young people to explore and develop their creativity.

Samantha worked alongside the Youth Development Team to create a variety of engaging community programs, workshops and events to build skills and showcase the creative talents of young people.

Samantha has strong youth development practices and a wealth of knowledge and experience to share with her audience. Subsequently, positive outcomes have always been achieved when working with Samantha."
— Mark De Campo Senior Youth Development Officer Golden Plains Shire Council
"Thank you for all you have given to create a creative space for all that have used. It's been great working with you .Thank you Samantha x"
— Bev loveday - BOP Artist
"Samantha is both a consummate professional and a true creative. Combine this with a wealth of experience negotiating with arts and government organisations and you get an invaluable asset for anyone wanting to turn their ideas into concrete realities. Can't recommend Samantha highly enough. "
— Sarah Hart Creative
"It was an extraordinary day for me yesterday at the professional development workshop and couldn't have come at a better time to completely inspire me and motivate me to continue pursuing art. "
— ALLEGRA DE LEUCIO - Emerging Artist
If you are interested in a studio visit or would like further information please contact myself directly (Ph) 0429 487 721 Email samantha@samanthathompson.com.au